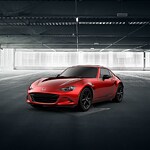 For a lot of people, a vehicle that is powerful is something that is worth buying. However, it is important for a vehicle to announce its power. One of the effective ways for a vehicle to give glimpses to its power is through its appearance. We at Hixson Mazda of Alexandria believe that the 2019 Mazda MX-5 Miata RF is very effective at giving a glimpse at its power.
One aspect of the design is that it is a bit lighter in how it is built. This is actually very helpful when it comes to the power and the performance of the vehicle. One aspect of the design involves the front shock tower brake which helps with the traction.
The Mazda MX-5 Miata also showcases it's soul of motion design which inspires people to drive the vehicle. The appearance of the vehicle inspires you to take the vehicle for a test drive.