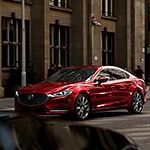 In the popular midsize sedan vehicle class, the Mazda6 stands out for its exemplary integration of cutting edge technology into its entertainment, safety and comfort features.
Protected by four cameras and eight sensors, you'll always have the confidence to back up or parallel park, even in tight locations or at night. The Mazda6 has a 360-degree view of the surrounding area that it displays on an eight-inch screen so you can visualize the immediate area around your car. Inside, heated and ventilated seats allow air to flow around you so there's never a hot or cold spot that makes you uncomfortable on a long drive.
At Hixson Mazda of Alexandria, you can reserve a test drive of the Mazda6 and explore its many technology features to see if it's a good match for your needs. We'll always be on hand and happy to discuss any concerns or questions you might have.