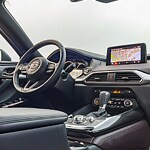 The Mazda CX-9 is an enormously popular 3-row SUV, prized for its luxurious silhouette, spacious cabin, interior layout, and trim levels. The CX-9 is also a prime example of dynamic safety features enhanced through cutting edge tech. Here are two safety features that illustrate this idea.
With Mazda CX-9's Lane-Keep Assist, you can rest assured that your days of less-then-perfect driving won't result in collisions. Lane-Keep Assist senses whenever you're about to make an unintended lane change at a speed over 37 mph. The system employs minor steering wheel corrections to keep you safely in your own lane.
Have you ever sped by an important traffic sign only to discover too late? The Traffic Sign Recognition System prevents this slip up. Thanks to strategically placed cameras, the Traffic Recognition System interprets traffic signs and displays the info in the Active Driving Display, so you never have to take your eyes off of the road. Come see the Traffic Sign Recognition System in action. Stop by Hixson Mazda of Alexandria today for a test drive.