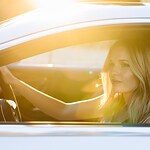 Reducing glare is important if you find yourself driving when the sun is reducing your ability to safely drive. At Hixson Mazda of Alexandria, we offer tips for drivers to stay safe during daily driving. Glare is a problem for everyone! There are some things you can do to lessen the effects of it and get down the road in a safe way.
Driving with a dirty windshield will increase the glare you have to deal with. Wash your windshield regularly to minimize glare. You should also store away any paper or other items that you normally keep on your dash. These items can distract you and compromise your ability to see everything.
A good pair of sunglasses and use of your sun visor can help you navigate through the tough glare. If the sun blinds you while you are driving, keeping a pair of sunglasses in your car can lessen the glare and help you get down the road.