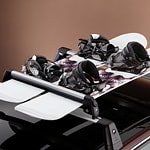 If you need help choosing a roof rack for the vehicle that you drive around town, Hixson Mazda can help. There are racks for any situation, and we'll help you select the right one for your needs. From carrying bicycles to adding extra cargo space, roof racks are an easy way to carry items that won't fit inside your vehicle.
When you have a roof rack on your vehicle, you need to be extra careful when entering spaces with low clearance. Parking garages and other structures can rip off a rack if there isn't enough space to fit. You'll also have to obey the speed limit designated for the rack. This will keep the pressure of the wind from ripping any items off of your roof.
Carrying long items like canoes requires extra precautions. You can use the towing eyes of your vehicle to secure the front and rear of long items.