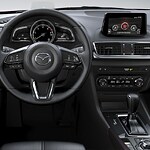 The Mazda3 5-door is a popular hatchback that's rich with impressive design features. From its sleek, stylish exterior to its undeniably quiet and comfortable cabin, there's a lot to appreciate about this vehicle. At Hixson Mazda of Alexandria, we want to help shoppers discover just how beneficial owning this car can truly be.
The Mazda3 5-Door Eliminates The Distraction Of Outside Noise
With the extremely quiet interior of the Mazda-3, you can avoid the distraction of outside road and wind noise completely. This makes it easier for drivers to focus on their surroundings. It also ensures that all occupants can fully enjoy any in-car entertainment they're listening to.
Get An Effortless Driving Experience
The interior of this car has also been strategically laid out to provide a completely effortless driving experience. From comfortable, supportive seats that perfectly balance weight distribution, to accessible and precisely positioned pedals, Mazda3 drivers will find that the engineering of this hatchback's interior is incredibly intuitive and convenient. Visit us at Hixson Mazda of Alexandria today to test drive the Mazda3 5-door and to experience its amazing design features for yourself.