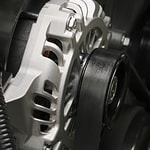 For your vehicle to operate well, there are many different parts that need to be working together. One important part of any vehicle is the alternator. This part of your car has a variety of important responsibilities.
The alternator of your vehicle is responsible for charging your vehicle's battery and supplying power to different areas of your vehicle. Some of the functions that are powered by the alternator include your air conditioning, power windows, ignition, and the radio. If your alternator is not working properly, you could struggle to start your car or use the various electrical functions.
If there is something wrong with your alternator, it is important to have it serviced as soon as you can. When you are in need of an alternator repair service, you should come to Hixson Mazda of Alexandria as soon as you can. When you come here, the team of technicians will be able to diagnose your mechanical issues and make any repairs necessary.