At Hixson Mazda of Alexandria we live to serve the community near Monroe, LA and beyond with a stellar inventory of Mazda cars. The Mazda brand is synonymous with lasting reliability, which is why our dealers are always passionate about introducing new customers to the practicality and timeless appeal that is a Mazda car. If you aren't sure what body style you are looking for in a vehicle, our Mazda Alexandria dealers are always more than ecstatic to sit down with our new clients and go through everything you are looking for and give you a run down of our inventory to help you find the right vehicle. If you are looking for a Mazda SUV that is on the compact side of things, then you will want to get behind the wheel of the 2017 Mazda CX-5.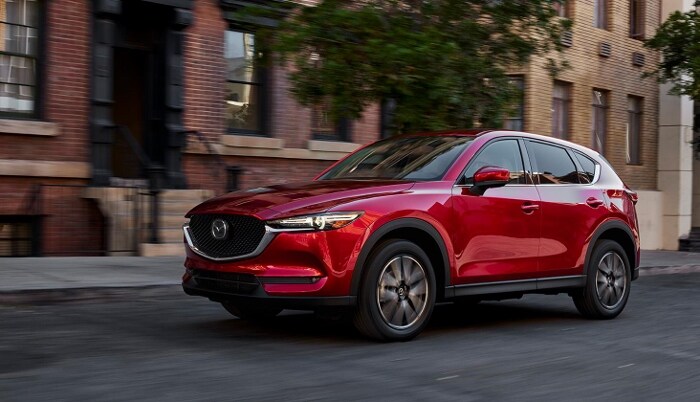 2017 Mazda CX-5 Details
 For the 2017 Mazda year the CX-5 has come back better than ever with a more luxurious interior and stylish exterior to match. When you are shopping for your Mazda vehicle at Hixson Mazda of Alexandria, you will have the choice between the Sport, Touring, Grand Select, and Grand Touring. Starting off with the sport, you will find sought after technology, such as Bluetooth connectivity, and USB ports to keep you plugged in while driving. On the higher trims you will see features, such as heated front seats, keyless entry, and even a moon roof, which is available on the Grand Select.
At Hixson Mazda of Alexandria you can always expect a new Mazda to have a myriad of safety features, and this compact crossover SUV is no different. Blind spot monitoring and rear cross traffic alert are both available on the Touring trim. Adaptive cruise control, lane assist, and forward collision warning are all features you will find on the Grand Touring.
2017 Mazda CX-5 Performance
Underneath the hood you will find a 2.5-liter four-cylinder engine, which produces 187 horsepower and 185 lb.-ft. of pure torque. For a compact crossover the 2017 Mazda CX-5 has a great fuel economy of 24 city and 31 highway.
In addition to this vehicle, we have plenty of other new and used Mazda cars for sale that are just waiting for you to come test-drive it. All you have to do is come to Hixson Mazda of Alexandria at 2506 MacArthur Drive.